DIVERSIFICATION OF BANK EVALUATION AND ANALYSIS OF MANAGEMENT PRACTICES IN GEORGIAN BANKS
References
Stiroh K. J. Diversification in Banking: Is Noninterest Income the Answer? http://www.questia.com/googleScholar.qst?docId=5007705395
Acharya V.V., Richardson M. 2009. Restoring Financial Stability: How to Repair a Failed System.
Kovzanadze I., Kontridze G. 2009. Some of the problems of the banking system before August of 2008. The Economy of Georgia (1).
Gvasalia Z. Georgian banks begin the gaining. Chairman of the Association of Banks of Georgia. Http://www.abg.org.gr
Ganiashvili M. 2009. How to fight the financial crisis in the Georgian Banking System. The Economy of Georgia, (3).
Khitarishvili M. 2010. Banking innovations in XXI century. www.businesscafe.wordpress.com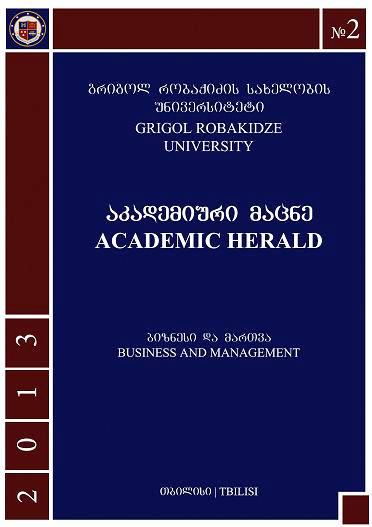 Downloads