COMPANY INVESTMENT ACTIVITY MANAGEMENT MODEL
References
Rose P. S. 2005. Bank Management & Financial Services With Powerweb. McGraw-Hill.
Brigham & Erndhardt. 2008. Financial Management Theory and Practice. Thompson Learning Inc. (12th ed.).
Mishkin S. F. 2004. The Economics of Money, Banking and Financial Markets (7th ed). Addison-Wesley.
Frost S. M. 2004.The Bank Analyst's Handbook. John Wiley & Sons, Ltd.
Campbell C. D., Campball R. G., Dolan E.G. 1988. Money, Banking, and Monetary Policy. The Dry-den Press.
Friedman D. 1989. Money & Banking. American Bankers Association.
Miller, R.L., VanHoose D. 2001. Money, Banking & Financial Markets. Cincinnati.
Dzneladze G. 2010. Analysis of Investment Sector and Perspectives of Economic Growth in Georgia. Bulletin of the Centre of Strategic Researches and Development of Georgia, N116.
Dzneladze G. 2003. Modeling Mechanism of Financial Flow in Georgia. Journal "Bank",
N 16.
Kakulia R. 2001. General Theory of Finance. Tbilisi: Finance.
Kakulia R., Khelaia G. 2000. General Theory of Cash Flow and Credit. Tbilisi.
Gudushauri L. 2007. Credit and Modern Bank Mechanism. Tbilisi University Press.
Bard V. S. 2000. Investment Problems of the Russian Economy. Moscow: Ekzamen.
Bard V. S. 2003. Investment Potential of the Russian Economy. Moscow: Ekzamen.
Bernard Y., Colli J.C. 1994. Economic and Finance Dictionary- French-English-German-Spanish. International Relations.
Birman G. 1997. Economic Analysis of Investment Projects. Moscow.
Blank I. A. 2002. Investment Management: Training Course. Kiev.
Milovidov V. D. 1996. Unit Investment Funds. Moscow.
Zaitsev D. A, Churaeva M. N. 1998. Organization and Activity of Unit Investment Funds. Moscow.
Captain M. E. 2003. Who is Who on the Collective Investments Market. Moscow.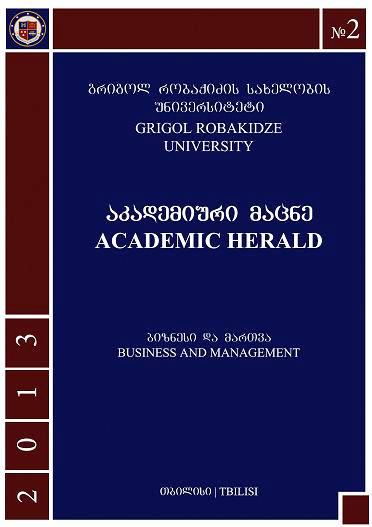 Downloads