Constitutional Framework of the Conflict Regions in Georgia and the Latest Attempts for their Regulation
Keywords:
Territorial Conflicts, Post-Soviet Space, Nationalism, Self-Determination, Secession, Federalism, Regionalism, Abkhazia, South Ossetia, Occupation, Annexation, Russia, Georgia
Abstract
There are several frozen territorial conflicts in the post-Soviet space that have intensified since the dissolution of the Soviet Union. These include: the Transnistrian conflict, Nagorno Karabakh and the breakaway regions of Georgia - de facto regimes in Abkhazia and in the Tskhinvali region (so-called South Ossetia). The territorial conflicts in the post-Soviet space also include, peculiarly, de facto regimes of the Donetsk People's Republic and Luhansk People's Republic in Ukraine. The annexation of Crimea also belongs to these categories of territorial conflicts. The present article analyzes and revises the constitutional status of the Georgian regions - Abkhazia and Tskhinvali region, taking into account current constitutional and international law regarding the conflict regions, in terms of conflict resolution and conflict management. Russia plays a key role in the emergence and continuation of territorial conflicts in Georgia. Russia is, in fact, a party to the conflict. However, nationalism is strong in Abkhazia in particular, and it is unlikely that the Abkhazians will agree to full assimilation with Russia and the factual annexation process that is already under way. It is legitimate to speak of expanded autonomy within Georgia in context of the Abkhazian people's right to political self-determination (within the context of internal self-determination). This must be agreed between the Georgian and the Abkhaz people under a federal territorial agreement (in case of federation). Asymmetrical regionalism as a form of territorial division can also be adapted. The result will be asymmetrical federalism or regionalism. The same regional model (expanded autonomy) also applies to the Tskhinvali region (South Ossetia), which currently does not have regional status recognized in the Constitution of Georgia of 1995. This concept of conflict resolution should be part of the Georgian strategy for reintegration of the conflict regions.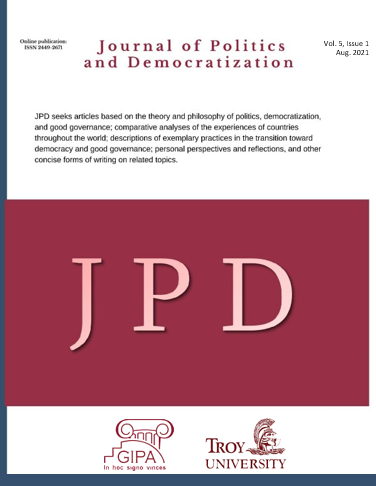 Downloads
How to Cite
Erkvania, T. (2021). Constitutional Framework of the Conflict Regions in Georgia and the Latest Attempts for their Regulation. Journal of Politics and Democratization, 5(1), 1–33. Retrieved from https://openjournals.ge/index.php/jpd/article/view/3507