XX Century Literature
"The Man of Sun" (Front-lyne Lyrics of Mirza Gelovani)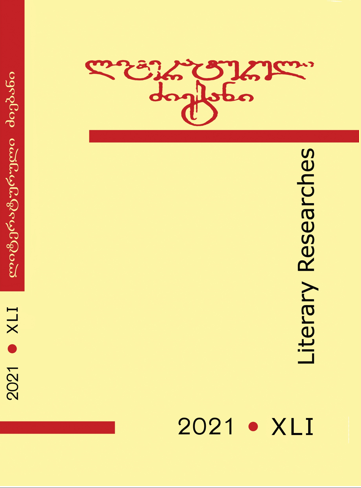 Published 2021-12-20
Keywords
Mirza Gelovani

,

Front-lyne Lyrics

,

Lost Generation
How to Cite
ჯოხაძე მ. (2021). "The Man of Sun" (Front-lyne Lyrics of Mirza Gelovani). Literary Researches, 41, 126–142. Retrieved from https://openjournals.ge/index.php/literaryresearches/article/view/3369
Abstract
Mirza Gelovani's generation is frequently referred to as lost and broken one. It's common knowledge that they recruited 700 000 Georgian soldiers for Soviet Union Army during Second World War. The war claimed more than 350 000 Georgians' lives. One of them was Mirza Gelovani, a talented Georgian poet.
Front-lyne lyrics of Mirza Gelovani has an extremely distinctive feature. It is its individualism. His poetry is not characterized by Soviet patriotism, artificial pathos or noisy calls. On the contrary, his poems are filled with warm intimacy, distinctive spirit, nostalgia of caring and affectionate mother and some other people. Mirza Gelovani's lyrics is as warm as home in the cold winter.
In his front-lyne poems, Mirza Gelovani does not reveal the brutalities of war. The poet depicts his own grief more emphatically than fatal wounds. As a result, physical sores are felt by his hurt. The poet has always a keen glance. He protects his spiritual alertness more than his own life as he knows that war can destroy and harm his childlike personality in the blink of an eye. And if it happens, life will seem meaningless.
To our surprise, the young spirit and "sunny character", which is so characteristic of Mirza Gelovani, is revealed in the poems created during the war. His poetry divides into numerous thematic circles: "War and Love", "War and Mother", friendship, apprehension, nostalgia of childhood, etc. Everything embossed the black wall of the World War.
Time has always been the most impersonal and enduring evaluator of art. Despite his short life, Mirza Gelovani's frank and plain poems still continue to amaze, excite us and they make us think. It turned out that he did not choose his pseudonym " The Man of Sun" by chance. His poetry is still warming and cheering readers' hearts up with faithfulness of the sun.