Issues of Literary Theory
At the Head of the New Paradigm: Giorgi Tsereteli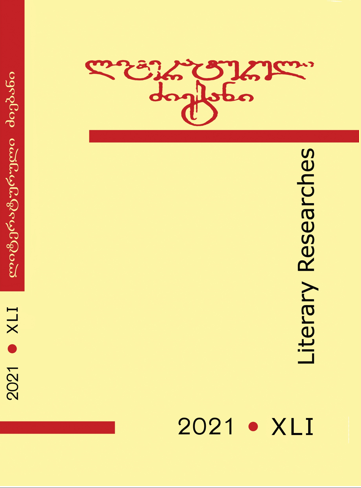 Published 2021-12-20
How to Cite
ციციშვილი თ., & მოდებაძე ი. (2021). At the Head of the New Paradigm: Giorgi Tsereteli. Literary Researches, 41, 176–191. Retrieved from https://openjournals.ge/index.php/literaryresearches/article/view/3373
Abstract
In the previous issues of the scientific review "Literary Researches" a series of our articles were published, where we discussed the issues of periodization and systematization of Georgian literature by Solomon Dodashvili, Aleksandre Tsagareli, Ilia Chavchavadze, Aleksandre Khakhanashvili, Kita Abashidze, Petre Umikashvili, Vakhtang Kotetishvili, Mikheil Zandukeli,
and Korneli Kekelidze.
The topic of this paper is the principles of systematization of the 19th century (second half) literary process, assessed by Giorgi Tsereteli. The specifics of Giorgi Tsereteli's approach differ significantly from the models we have previously discussed. Giorgi Tsereteli's article "Kita Abashidze and "Our Youth", ("Kvali" 1897. N46 ) is a critical response to Kita Abashidze's article "Life and Art ("Our Youth) " ("Moambe" 1897. N7-10). The opposite and very subjective opinions expressed during this controversy are very important for the history of the systematization of Georgian literature in the second half of the 19th century. Tsereteli's article critically evaluates Abashidze's views and systematizes the Georgian cultural-literary process of the second half of the 19th century and the reception of the three "Dasies" (Groups) in the Georgian public and literary space - the first, second and the third. Giving priority to the public importance of writing and the ideological load indicates the initial stage of the formation of a new paradigm of critical thinking, which is fully consistent with the general cultural situation of the time.